Linux eBooks FREE Download
I have downloaded and reviewed all free Linux eBooks below and in other words here is what I think about them:
A Newbie's Getting Started Guide to Linux
This free Linux eBook is couple pages manual written for a complete beginners to a Linux operating system. I have not seen yet such a detailed description of Linux installation. Author uses virtual machine to install Linux OS. If you do not have Linux installed yet and want to see what is Linux about this free Linux eBook can be good way to start. Those who already have a Linux installed would not find much by downloading these free Linux eBook and should read below.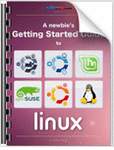 eBOOK DOWNLOAD (PDF)
A Complete Beginner's Manual for Ubuntu 10.04 (Lucid Lynx)
This Linux free book is intended for Ubuntu users with no or some experience with Linux. The eBook will guide a reader to a Ubuntu world and explore some basic as well as advanced uses of Ubuntu and Linux it self such is recognizing hardware, burning cd's, simple security, command line tools and so on. This Linux free eBook nicely structured and give anyone with interest to Linux nice overview and starting point to a future study. If your are interested in Ubuntu Linux, download of this free Linux eBook is recommended.
eBOOK DOWNLOAD (PDF)
The GNU/Linux Advanced Administration
Mastering Linux is not a easy task. This Linux free book is for those who are more serious about Linux and it's administration. If you think you know how to master Linux, download and read this Linux eBook and believe me that you will learn lots more. The eBook has around 545 pages of well written Linux text and is free. I covers most of Linux administration aspects and anyone with serious intention to learn Linux will greatly benefit from this free Linux eBook. Download highly recommended ! Do not think that just because this eBook is free it has nothing to offer, in a contrary to opposite is true !
eBOOK DOWNLOAD (PDF)
Linux from Scratch – Create Your Own Linux System
This Linux free book is for people who wish to create their own Linux distribution. It is written be a Gerard Beekmans the Linux From Scratch (LFS) initiator and LFS Project organizer. I guess that if you decide to learn more about Linux by creating there is no better Linux eBook than this one. The reader must have some previous knowledge of a Linux operating system in order to follow this book. If your are about to download the free Linux eBook and do not have much experience in Linux it is also recommended to download The GNU/Linux Advanced Administration eBook as well.
eBOOK DOWNLOAD (PDF)